Massage Therapy
COVID-19 UPDATE
Covid-19 has caught up to me and small businesses like me. Unfortunately, Quadra Massage Therapy clinic officially closed it's doors on May 8, 2020.
I will be relocating the clinic at some point. However, because there is a strong possibility that there will be a second wave and another potential future lockdown, I need to wait for all that to sort itself out before I resume my practice again.
In the meantime I am offering self-massage sessions ONLINE called:
Sensing Anatomy: Flesh, Bones and Space
These sessions will help you address and find solutions to your daily pain patterns. These online sessions are a perfect self-care solution for those of you who are still social distancing, self-isolating or under self-quarantine.
Sessions are 60 – 90 minutes in length (via Zoom) and are either one-on-one or for couples.
These can either be a one-on-one session just for you, but they are also great for you and a partner to do together, so that you can experience receiving touch and giving touch and at the same time learn tricks of the trade.
The fees: All prices include GST.
60 minute session: $75 for individual or $85 for couples

90 minute session

$90 for individual or $105 for couples
If you are interested in booking a Sensing Anatomy: Flesh, Bones and Space online self-care contact Bisia at 250-384-1133 or bisia@soundbodystudio.ca.
---
Guidelines for returning to work and getting a massage.
The guidelines given by the massage therapy association, WorkSafe BC and the Provincial Health Officer are very strict, clear and are about keeping both therapists and their clients safe. Please understand, however, that these guidelines will definitely change the experience of receiving a massage.
Before your book your next appointment with any health care therapist, be sure to check in with the therapist to make sure they have a system in place that will keep everyone safe.
New Health & Safety Practices must be in place with any therapist(s) that you might be seeing (including but not limited to: physiotherapists, massage therapists, chiropractors, naturopaths, acupuncturists).
Please do not visit any therapists if you are experiencing any cold and flu symptoms.
If you are unsure if you are experiencing symptoms of COVID-19 please take the BC COVID-19 Symptom Self-Assessment Tool at: https://bc.thrive.health/covid19.
---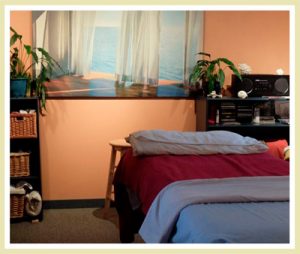 Bisia Belina, RMT
Bisia has been a Registered Massage Therapist for 30 years. She offers individual massage therapy sessions, self-care classes, workshops and professional development training.
Clients can book Bisia for a personal massage or group workshop/class, or attend one of her quarterly Sensing Anatomy: Flesh and Bones workshops.
Bisia participates in continuing education courses in a variety of protocols. Her techniques include: Swedish, Acupressure, Polarity Gravity Lines and Myofascial Techniques.
Bisia has also developed SoundBody Therapy, a distinctive method of massage. SoundBody Therapy training opportunities and continuing education workshops for Registered Massage Therapists are available throughout the year. Contact Bisia at bisia@shaw.ca or visit her Schedule Page for more details.
Bisia also offers Professional Development opportunities and Community Wellness Workshops for a variety of audiences. VoiceWorks and VocalBody Arts Teacher Training is also available.
---
Therapeutic and Relaxation Massage treatments vary in length:
45 minutes/$85
60 minutes/$110
90 minutes/$150
Bisia also offers self care BodyWork training (individual or small group):
Initial session is 45 minutes/$60
Follow-up sessions are 30 minutes/$50
All prices include GST.
As Bisia is a Registered Massage Therapist,
your insurance coverage will cover partial
or full fee reimbursement depending on your plan.
Please note:
There is a cancellation fee for missed appointments. If you need to change or cancel your appointment,
please give notice 24 hours before your appointment time otherwise a cancellation fee will apply.