Massage Therapy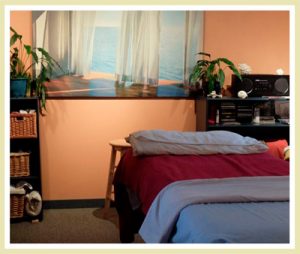 Bisia has been a Registered Massage Therapist for over 25 years. She offers individual massage therapy sessions, self-care classes, workshops and professional development training.
Clients can book Bisia for a personal massage or group workshop/class, or attend one of her quarterly Sensing Anatomy: Flesh and Bones workshops.
Bisia participates in continuing education courses in a variety of protocols. Her techniques include: Swedish, Acupressure, Polarity Gravity Lines and Myofascial Techniques.
Bisia has also developed SoundBody Therapy, a distinctive method of massage. SoundBody Therapy training opportunities and continuing education workshops for Registered Massage Therapist are available throughout the year. Contact Bisia or visit her Schedule Page for more details.
Bisia also offers Professional Development opportunities and Community Wellness Workshops for a variety of audiences. VoiceWorks and VocalBody Arts Teacher Training is also available.
---
Therapeutic and Relaxation Massage treatments vary in length:
45 minutes/$85
60 minutes/$105
90 minutes/$140
Bisia also offers self care BodyWork training (individual or small group):
Initial session is 45 minutes/$60
Follow-up sessions are 30 minutes/$50
All prices include GST.
Appointments can be made during the following times:
Tuesdays: (full day) 9:30 am to 3:00 pm being last appointment
Thursdays: (full day) 9:30 to 4:30 pm being last appointment
To make an appointment, please phone 250-384-1133*
*If you are a returning patient, you may also contact Bisia via email.
Click here for location and map.
As Bisia is a Registered Massage Therapist,
your insurance coverage will cover partial
or full fee reimbursement depending on your plan.
Please note:
There is a cancellation fee for missed appointments. If you need to change or cancel your appointment,
please give notice 24 hours before your appointment time otherwise a cancellation fee will apply.